Located within the offices of Valley Plastic Surgery is our state-of-the-art surgery center, where Dr. Alyson Wells performs the majority of her plastic surgery procedures.
In Baltimore, MD and surrounding communities, people appreciate the ultimate combination of privacy, excellent surgical care, and comfort they receive at our facility. Our anesthesia providers are board-certified M.D. anesthesiologists, all of whom have worked closely with Dr. Wells at their primary hospital location, Greater Baltimore Medical Center (GBMC).
To learn more about Dr. Alyson Wells and her on-site surgery center, request a consultation using our online form or call (410) 628-8200 to schedule your appointment.
Her rare combination of impeccable training, keen aesthetic sensibilities, technical skill and precision in plastic surgery sets this Baltimore surgeon apart from the rest.
Request A Consultation Meet the Doctor
Dedicated to Your Safety & Comfort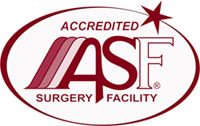 Dr. Wells and her staff are very proud to have attained, through an extremely rigorous process of on-site review and inspection, accreditation from the American Association for the Accreditation of Ambulatory Surgery Facilities (AAAASF). This prestigious certification is granted to only those surgery centers that adhere to a stringent set of standards that place patient safety and excellent outcomes above all else. AAAASF certification assures our patients of the highest quality patient care available in a surgery center.