ellacor™
Offered at our convenient location in Baltimore, Maryland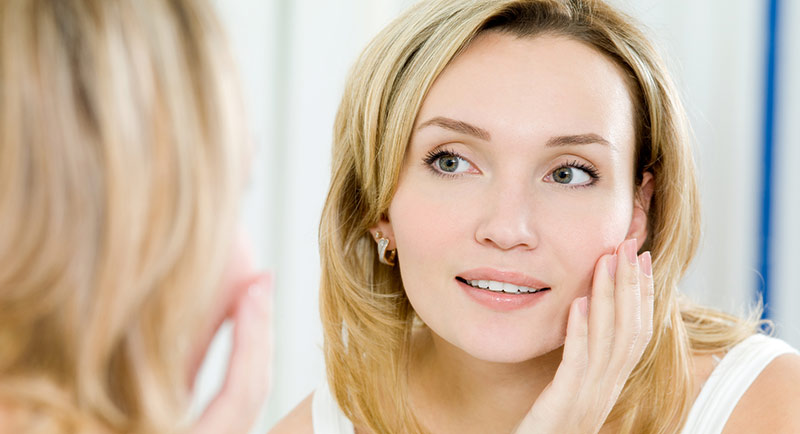 The ellacor™ System with Micro-Coring technology by Cytrellis is a new innovation in the treatment of moderate-to-severe wrinkles in the mid and lower face. This minimally-invasive device removes sliver-like "cores" of skin to reduce signs of aging without scarring. And, as ellacor is the only technology of its kind currently available, it's the world's first micro-coring solution for aging skin!
Time causes a loss of elasticity in skin and a decrease in collagen production, which means signs of aging become more prominent. Subtle lines and wrinkles around the nose and mouth can develop into deeper and more pronounced rhytides with age. And, the deeper the lines, the harder it is to resolve them. With ellacor treatment, patients can experience softer lines and smoothed wrinkles with the latest facial rejuvenation technology!
Baltimore's Valley Plastic Surgery and Medi-Spa proudly unveils the ellacor platform for patients in search of effective anti-aging treatments. Led by double board-certified plastic surgeon Alyson Wells, MD, FACS, we're ready to tackle wrinkles and lines head-on with ellacor! Book your personal consultation to discuss ellacor treatment with us by calling (410) 628-8200 or by completing our quick online form.
Effective Anti-Aging Treatment
Time is rarely kind to our skin. Even with the most beneficial skin care products and a rigorous anti-aging regimen, the effects of aging are seemingly inevitable. Internal and external factors cause skin to sag, and fine lines and wrinkles become more noticeable. In the deeper layer of the skin, the dermis, collagen fibers also become fragmented, and more coarse. And gradually, the body slows collagen production, depleting its vital support structure and causing sagging. (1) This skin redundancy can have a marked effect on our facial features, revealing secrets of our age we may not wish to share.
What Can ellacor Treat?
ellacor™ is indicated for use in the midface and the lower face (the central third and the lower third). The margin of the midface begins at the bottom edge of the lower eyelids, while the border of the lower face is located at the lower jawline. Patient areas of concern may include the following.
Nasolabial Folds
Perioral Wrinkles
Jowling
Cheek Skin Laxity
Jawline Sagging
Upper Neck Sagging
Pioneering Treatment
ellacor™ currently stands alone as the first device of its kind. There are already many in-office treatments available for skin rejuvenation, including laser procedures, microneedling, radiofrequency devices, and even micro-focused ultrasound. (2) But minimally-invasive procedures like these remodel skin by applying heat energy in some form. These minute thermal injuries cause a healing response that tightens and rejuvenates skin. So, what sets ellacor apart from the rest?
MCT: Scarless Wound Healing
The Micro-Coring technology (MCT) of ellacor resembles other anti-aging treatments in some ways. It's an in-office procedure, it's minimally-invasive, and it causes tissue remodeling. But the way it gets results is different and, many would argue, more effective.
MCT addresses moderate to severe skin laxity and wrinkles with scarless remodeling. Ellacor achieves fantastic results that rival lengthy surgical procedures such as the facelift and mini facelift, which also have considerably longer recovery periods by comparison.
Below the Scarring Threshold
Studies show that micro-coring is a safe and effective facial rejuvenation method, with notable signs of skin rejuvenation in test subjects. (2) Unlike microneedling, which only displaces skin temporarily, ellacor uses fine, hollow needles to remove full-thickness micro-cores. The treatment does not use thermal energy. Instead, it causes biomechanical tissue remodeling with micro-scale excisions below the size threshold for scar tissue to form. Each needle removes a core up to 400 microns (0.4mm/0.015in) in diameter!
Benefits of ellacor Anti-Aging Treatment
ellacor™ was developed as an improved alternative to other minimally-invasive anti-aging treatments, an option many patients are grateful to have!
New non-surgical facial rejuvenation treatment
Addresses age-related skin laxity
Minimally-invasive in-office procedure
No thermal damage to skin tissue
Minimal discomfort (comparable to microneedling)
Simpler, shorter recovery than surgical facelift
High patient satisfaction rates
Micro-coring treatments may significantly limit the chance of more severe complications, making it a great treatment option for patients with certain skin sensitivities. Compared to laser treatments, study data showed there were no reported instances of severe skin complications such as cold sores (herpes simplex virus) and acne-related complaints, even without preventive medication! (3)
What Are Patients Saying About ellacor™?
Manufacturer-led trials for ellacor revealed remarkable patient satisfaction rates. Patients completed satisfaction questionnaires, known as the Global Aesthetic Improvement Scale (GAIS), 30 and 90 days after their treatment. The results were overwhelmingly positive. Collected data revealed that 90% of ellacor-treated patients showed improvement in accordance with the GAIS. (4)
Candidates
Ellacor™ is suitable for patients over the age of 22 with moderate and severe wrinkles and lines. It may be most beneficial for patients over the age of 40 who are starting to notice skin sagging in the jowls, deeper nasolabial folds, and more noticeable perioral lines and wrinkles.
What Could Stop Me from Getting ellacor Treatment?
Ellacor™ is safe and effective for the treatment of Fitzpatrick skin types I-IV. However, it may not be a good fit for patients with darker skin tones (Fitzpatrick skin types V and VI). But because the technology is so new, clinical research in this area is ongoing. Developers Cytrellis await further clinical testing to ensure ellacor has the correct safety protocols in place for patients with darker skin. (5)
Other things that may prevent you from receiving ellacor treatment include the following.
Conditions such as keloids, tumors, and solar keratosis
Active inflammation such as acne, folliculitis, and rosacea
History of keloid or abnormal scarring
Skin with open wounds or sores
Stainless steel allergy
Topical anesthesia allergy
Significant bleeding disorders
Use of certain medications
Facial surgical scars less than 12 months old
Pregnant/nursing mothers
ellacor™ and Injectables
Injectable facial rejuvenation treatments such as Botox, and dermal fillers like Juvéderm and Radiesse are popular ways to achieve a smoother, more youthful visage. However, patients who have had an injectable procedure, or any other minimally-invasive skin treatments, should wait at least 6 months before receiving ellacor treatment.
Dr. Wells will be happy to discuss ellacor's suitability for your needs at a personal consultation in Cockeysville, MD!
Personal Consultation
At Valley Plastic Surgery & Medi Spa, patient satisfaction is our priority! At your personal consultation, we will speak with you about your facial rejuvenation goals, and determine whether ellacor treatment is the right way to achieve them. Please tell us if you have received any other facial rejuvenation treatments, especially if they were performed within the past 12 months. We will take note of your facial skin quality, note its elasticity, and examine your wrinkle and line formation. If ellacor is a good fit, we will determine your personalized treatment plan and schedule your procedure!
Preparation
Preparing for ellacor may vary according to patient skin type, current medications, and other factors. Please give Dr. Wells a list of your current and prior medications, and tell her if you have experienced hyperpigmentation in the past. You may be required to stop taking some medications and supplements, especially if they thin the blood. Similarly, you should tell her if you have had recent exposure to natural UV light from the sun or sunbeds that caused red, peeling, or swollen skin.
What is Getting ellacor Treatment Like?
After applying local anesthesia, Dr. Wells will move the ellacor handpiece over the area of treatment. The multi-needle device will then remove micro-cores of skin quickly and efficiently. In fact, a 10mm2 area of skin can be treated in less than three seconds. This means most procedures are complete in as little as 30 minutes! (6)
We will give you detailed aftercare instructions following your ellacor procedure. Every person heals differently, but as soon as the micro-coring takes place, your body will begin its healing process to realign and tighten skin tissues. Mild swelling, redness, bruising, and other skin changes will be relatively short-lived following your treatment, and most patients can expect resolution of unwanted side effects within a week.
Patients will see a clear but natural-looking difference in their skin's quality as collagen production increases throughout the healing process and wrinkles appear to melt away. With ellacor™ micro-coring technology, we can provide outstanding improvements in skin architecture and resilience!
Find out what our patients say by reading our reviews!
Cost of ellacor™ Treatment in Baltimore, MD
Dr. Wells is proud to introduce her patients to the first micro-coring device for facial rejuvenation. As every treatment plan differs from the next, we will determine the cost of your ellacor treatment after your personal consultation. Financing may be available for qualified candidates. For more information about ellacor, and to book your personal consultation at Valley Plastic Surgery & Medi Spa, please contact our office at (410) 628-8200.
Get the latest facial rejuvenation advice from the experts, and learn more about innovative anti-aging treatments like ellacor by reading Dr. Wells's blog.
FAQ
What is the name of the new micro-coring device? 
The full name of this device is the ellacor™ System with Micro-Coring Technology.
Is ellacor the same as microneedling?
No! Although they both use needles, the devices work in different ways. Microneedling devices use needles to temporarily displace skin, causing micro injuries that lead to skin remodeling. ellacor™ is the first device to actually remove thin cores of skin, after which, skin tightens as it remodels without causing scarring. This micro-coring method is proven to be an effective, scarless skin rejuvenation treatment with high patient satisfaction rates.
Does ellacor use heat?
No! Unlike lasers and RF microneedling, ellacor is a heat-free treatment. This means it causes only controlled mechanical micro-injuries. Because of this there's no risk of accidental thermal skin injury.

Why doesn't ellacor cause scarring?

ellacor™ is a scar-free treatment for wrinkles and lines in the mid-to-lower face. The tiny cores the device removes are below the size threshold for scar creation.
References