Breast Augmentation
Offered at our convenient location in Baltimore, Maryland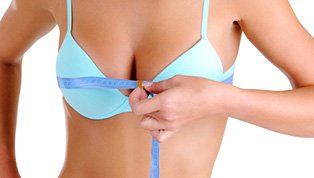 No matter your age, your breasts are central to defining how you feel about yourself as a woman.
As a board-certified plastic surgeon, a wife and a mother, Dr. Alyson Wells understands this better than most. Women interested in breast augmentation in the Baltimore area benefit from her feminine insights as well as her comprehensive training, skill and experience.
About Breast Augmentation
Some women know at a younger age that their ideal self-image includes rounder, fuller, shapelier breasts. Other women seek out Dr. Alyson Wells later in life or after becoming a mother.
Breast augmentation increases or balances the size of the breasts, restores breast volume, and optimizes proportions between the upper and lower body. The goal of breast augmentation at Valley Plastic Surgery is a natural roundness and fullness. 
Along with the many wonderful joys of becoming a mother, certain changes in the breasts accompany the life-changing event of maternity. Many women experience loss of upper breast volume and sagging that are not sufficiently improved with a bra. Without extra padding for volume, stylish swimsuits and figure-hugging dresses are not as flattering.
Often these women will benefit from breast augmentation to restore fullness and from breast lifting to improve shape. Dr. Wells uses saline or silicone gel breast implants for her Baltimore breast augmentation patients who want to augment or reshape their breasts. 
Learn more about saline vs. silicone breast implants.
Before and After Photos
Personal Consultation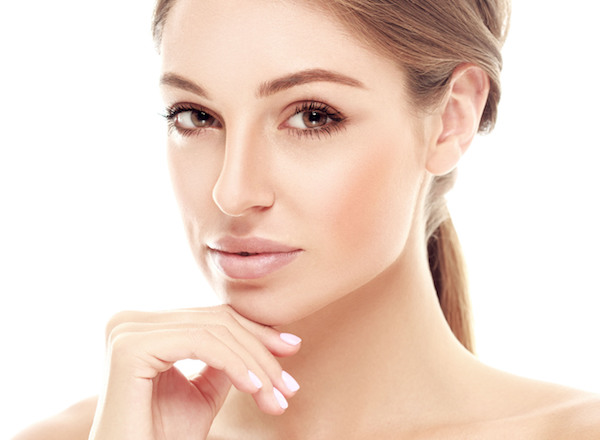 Your decision to enhance bodily features is a very personal decision. This is why patients are scheduled for a consultation to discuss the intimate details of breast augmentation surgery. During a one-on-one consultation with Dr. Alyson Wells at Valley Plastic Surgery, you will have an opportunity to have your questions and concerns addressed in a comfortable setting. Dr. Wells will inquire about your prior health and medical history. You will be encouraged to share your desired outcome and breast augmentation goals. After which, Dr. Wells will conduct a physical examination and discuss breast implant options with you. 
Options will include incision placement, type, size, and shape, and placement of the implants, available. Dr. Alyson Wells will offer suggestions and recommendations based on the conversation with you. From there, a plan for surgery may be discussed, including a customized cost for options selected. 
Placement of Implants
Dr. Wells places breast implants in 1 of 2 locations: submuscular or subglandular.
Submuscular
The implant is placed in a pocket partially or completely beneath the pectoralis muscle, against the chest wall.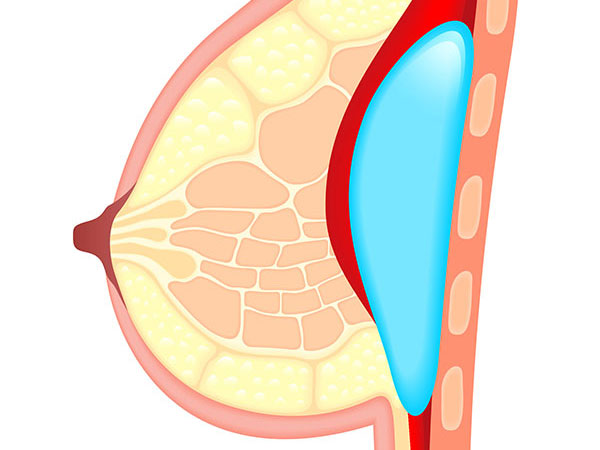 Subglandular
The breast implant is placed in a pocket formed beneath the breast tissue, but above the pectoralis muscle.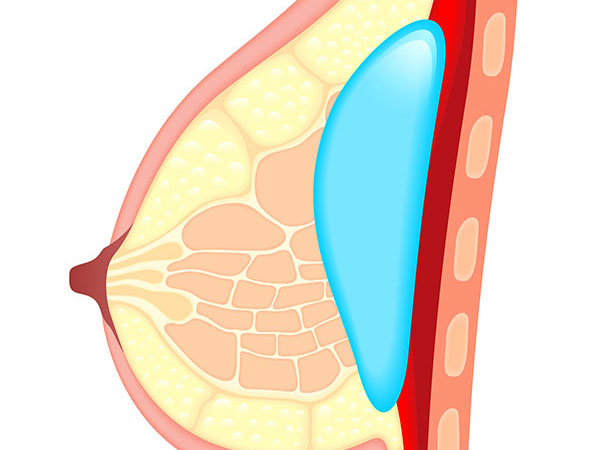 Implants placed beneath the pectoralis muscle usually give a softer, more natural appearance than most implants placed above the muscle. Placing the implant beneath the muscle also reduces the risk of scar tissue building up around the implant. The subglandular placement is less commonly used, but may be appropriate in some circumstances.
Incision Placement
Implants are most commonly placed via a periareolar or an inframammary incision.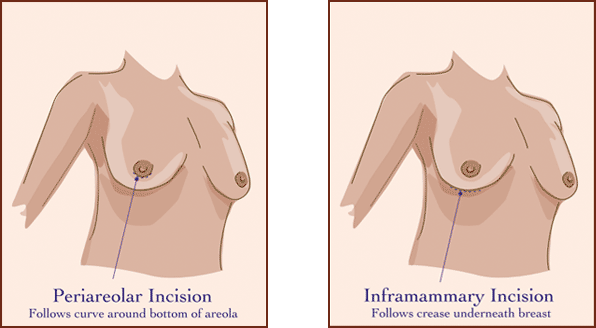 There are advantages to both, and we will consider your body type, amount of existing breast tissue, whether saline or silicone implants are used, and the look you desire when assessing which is best for you.
Ideal Candidates
Patients who are appropriate to undergo a breast augmentation surgery with Dr. Alyson Wells are generally healthy individuals who have realistic expectations for the outcome of their surgery. Potential patients are people who are deciding on breast augmentation surgery for themselves and are not looking to impress or appease others.
Breast Augmentation Preparation
In order to prepare for a breast augmentation procedure with Valley Plastic Surgery, patients will be provided with pre-operative directions in order to have the safest and most comfortable surgery experience.
At the consultation appointment, Dr. Alyson Wells will discuss with you how your current habits or health history could impact your breast augmentation surgery. 
Because of this, if you are a smoker, Dr. Wells will direct you to stop smoking as soon as possible before your scheduled breast augmentation surgery. This is because smoking increases the risk of complications during and after surgery. These smoking-related complications include decrease in blood flow, which increases healing and recovery time, chance of infection, adverse interaction with anesthesia, and the likelihood of capsular contracture. 
Dr. Wells may also prescribe certain medications that you must take prior to or immediately following surgery. You should be sure to pick up the prescriptions so you are able to have it on hand when needed.
Also, you will be advised to begin fasting from food and fluids a certain amount of hours prior to surgery. This is to mitigate risk during surgery. Fasting lessens the chance of experiencing post-op nausea due to reacting to anesthesia. We want you to have a comfortable surgery and recovery that go smoothly. Following the instructions we provide will set you up for a positive experience.
Dr. Wells Welcomes Your Questions
Patients who choose Dr. Wells appreciate the time she takes to answer all of their questions, down to the tiniest detail. She welcomes the opportunity to discuss breast augmentation with you and to help you feel informed and confident in your decision.
FAQ
What can I expect during recovery after breast augmentation? 
Most patients need only minimal amounts of pain medication over the next few days.

Following your surgery in our accredited surgery center and observation in our post-anesthesia recovery area until you are awake and comfortable, you will return home or to your hotel with a family member or friend. Most patients feel rather well very soon after their procedures and describe the discomfort following a breast augmentation as muscle soreness or aching.

You will be wearing a soft, comfortable sports-type bra with front clasps after your procedure for support and a bit of compression. Generally, you will be able to shower about 48 hours after your procedure. We recommend that you wear "easy on and off" garments for the first week or 2, such as blouses that button up the front and zippered "hoodies."
How long will I need to take off work after breast augmentation?
Because most patients who undergo this procedure are young, healthy, and vibrant individuals, and because they feel so well so soon after their procedure, many patients take a week or less off work. Patients who have jobs requiring a degree of physicality (personal trainers, physicians, nurses, dentists, mothers caring for young children, flight attendants, servers in bars and restaurants) may have to allow a bit of extra time away from work or adapt their duties as needed to avoid heavier lifting.
Are silicone implants safe? 
A resounding "Yes!" We have many, many medical studies and many years of data that prove this unequivocally.

During your consultation with Dr. Wells, she will give a recommendation, based upon your unique anatomy, circumstances, and goals, for either saline or silicone implants. But, it will always be your final choice. Dr. Wells has tremendous experience with both saline and silicone implants and can summarize all of the important medical facts, advantages, and disadvantages of both kinds of implants for your particular situation.
Will breast augmentation help with sagging? 
Breast augmentation alone can be helpful to improve the appearance of some breasts that have minor amounts of sagging. Most patients that have a significant amount of sagging (nipples located at or near the bottom of the breast or an overall deflated appearance of the breasts) will be more appropriately treated and happier if a breast lift is performed along with a breast augmentation. During your consultation, Dr. Wells will discuss this option with you if she feels that an augmentation alone is not optimal.
Will I be able to breastfeed after breast augmentation? 
Your ability to breastfeed is not usually significantly affected by breast augmentation alone.

The most important determinant of the ability to breastfeed after breast augmentation is whether you were able to successfully breastfeed prior to breast augmentation. Use of an axillary (underarm) or inframammary (bottom crease of the breast) incision for placement of the implants should not diminish the ability to breastfeed at all, whereas use of a periareolar ("smile" incision at the lower edge of the areola) incision may have a low risk of decreasing milk supply because some of the surgically interrupted ducts may not undergo reconnection during the healing process.
How much does breast augmentation cost? 
The fees associated with breast augmentation, similar to other cosmetic procedures, depend upon several factors, so it is difficult to give an absolute cost. Silicone implants are a bit more expensive than saline implants. Dr. Wells is proud to use Mentor implants (both saline and silicone) exclusively in her practice. Valley Plastic Surgery is knowledgeable about regional and national trends in costs associated with providing this procedure, including the costs associated with the actual implants, anesthesia, and operating room, and we strive to be competitive with plastic surgeons in the Baltimore-Washington area.

Make sure you are comparing apples to apples.

However, some variability in fees throughout the region may reflect use of cheaper and perhaps less satisfactory brands of implant, less training or experience of the physician performing the procedure if other than a board-certified plastic surgeon, less training of the individual providing the anesthesia if other than a board-certified anesthesiologist, or lack of accreditation of the surgery facility in which the procedure is being performed. In other words, Dr. Wells is a board-certified plastic surgeon and a board-certified otolaryngologist/head and neck surgeon who operates in her own accredited surgery center with a board-certified anesthesiologist providing the anesthesia.

A detailed estimate of the fees, customized for your procedure, will be provided to you following your consultation with Dr. Wells.

Alyson Wells, M.D., F.A.C.S.
Her rare combination of impeccable training, keen aesthetic sensibilities, technical skill and precision in plastic surgery sets this Baltimore surgeon apart from the rest.
If you are considering breast augmentation, request a consultation online with Dr. Wells or call (410) 628-8200 to find out how the procedure can enhance not only your breasts but also your sense of femininity and confidence.