Facial Surgery
Offered at our convenient location in Baltimore, Maryland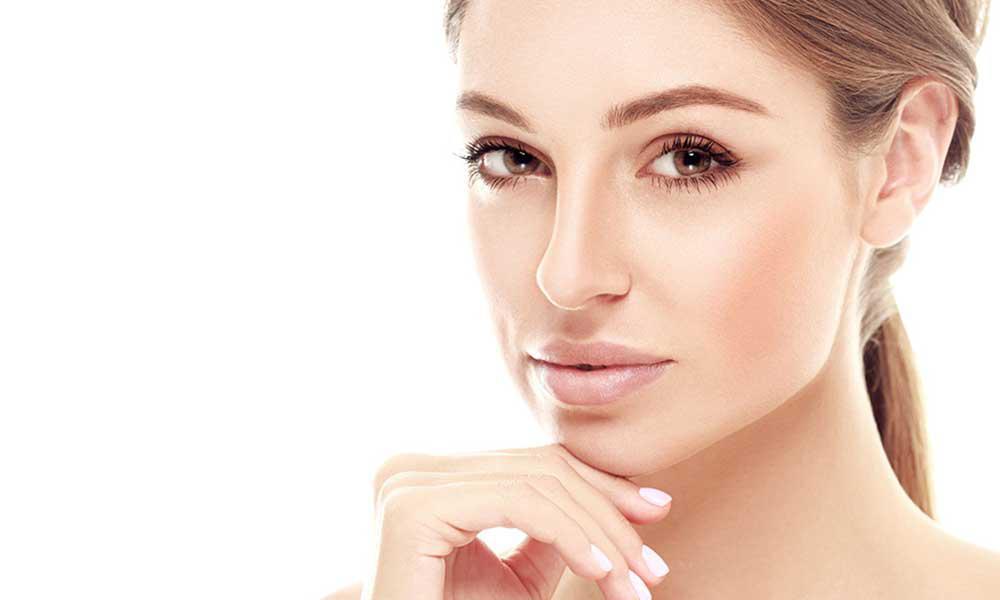 People of all ages are taking advantage of cosmetic surgery to treat the signs of aging in the face and neck.
Plastic surgery has gone mainstream as the variety and effectiveness of these procedures has improved with the technology. Even small, subtle enhancements to the face, neck, eyes and skin can make a big difference. And today we have to ability to precisely target these areas to rejuvenate your appearance and literally change the way you face the world!
Dr. Alyson Wells is one of the most skilled and respected plastic surgeons in the Baltimore area. She specializes in cosmetic and reconstructive facial surgery of the head, neck and face. She is well-known and celebrated throughout the region for empowering people to enhance their lives. Dr. Wells is a Fellow of The American College of Surgeons, certified by the American Board of Plastic Surgery and chosen by Baltimore Magazine as one of its "Top Doctors." Her offices at Valley Plastic Surgery & Medi-Spa are renowned for their wide array of facial surgery options for the women and men of Baltimore.
Schedule a consultation to learn more about Valley Plastic Surgery's facelift, brow lift, neck lift, eyelid surgery, stem cell & fat transfer and other facial rejuvenation procedures.
Before and After Photos
Facelift (Rhytidectomy)
Receiving a Facelift in Baltimore, or rhytidectomy procedure, tightens excess skin around the mid and lower face to reduce wrinkles and create a youthful appearance. The results can be dramatic.
Dr. Wells is a plastic surgeon who began her impressive career in otolaryngology (head and neck surgery). So, when it comes to facial rejuvenation, she is one of Baltimore's best. She will work with you to customize your bespoke procedure and help you to decide which areas of your face to target. Dr. Alyson Wells has a surgeon's skill and a mother's compassion. She wants to help you achieve your aesthetic goals and she will make sure you understand all your options.
Your face is the way you communicate your emotional state to the world, consciously and unconsciously. So, why wouldn't you make it a priority?
Below are several of the most popular approaches to the facelift.
Mid-Facelift
Patients seeking subtler results may opt for mid-facelift, which aims to address sagging cheeks. Typically people just entering middle age will begin to see changes in this area as skin becomes lax and the lines from a lifetime of smiling begin to accumulate at the sides of the mouth.
As time goes on, the signs of aging advance down the face to produce jowls and other pockets of sagging skin. This is when Dr. Wells may suggest more comprehensive measures and suggest a lower facelift.
Lower Facelift
A lower facelift may be added on to your mid-facelift procedure or performed on its own to target signs of aging in the lower third of the face. Dr. Wells will help to define your jawline by eliminating jowls, smile lines and sagging cheeks.
Many people—especially women—come to Valley Plastic Surgery & Medspa when they begin to notice a loss in the supple feminine fullness of their neck and cheeks. Some even complain that these signs of aging make them appear more masculine. Dr. Alyson Wells hears and understands you. And she knows how to help.
Mini-Facelift
The mini-facelift (the "mini," as it's sometimes called) is the least invasive variety of rhytidectomy. Recovery time and post-op scarring are also reduced. It is an effective treatment for smile lines (nasolabial folds).
The mini addresses all the same issues as the more involved varieties of facelift, minus the advanced signs of aging that tend to develop around the chin and neck. For these symptoms, Dr. Wells may recommend a lower facelift or neck lift.[1]
Brow Lift or Forehead Lift
There are several approaches to a Brow Lift in the Baltimore area, depending on your unique goals and specific needs. A brow lift (also known as a forehead lift) may be performed on its own or in combination with other facial rejuvenation procedures, like a facelift or eyelid surgery. A "furrowed brow" can make you appear angry, tired or sad to the outside world, even when you're feeling just fine. And "worry lines" can begin to develop in the forehead as the years set it. But Dr. Alyson Wells understands your concerns. Worry no longer!
In a brow lift, the skin on the forehead and along the browline is pulled tighter to help create a brighter and more alert appearance. Contact Valley Plastic Surgery & Medi-Spa to learn more.
Neck Lift
A Neck Lift is one of the best ways of eliminating the dreaded "turkey neck" that can be one of the most visible signs of aging. "Turkey neck" is a stubborn patch of loose flesh that begins to sag from the chin and jawline as our skin loses its youthful springy suppleness. A neck lift is the most effective way to improve your profile.[2]
Eyelid Surgery (Blepharoplasty)
The eyes are the focal point of our face and the mythological "windows to the soul." More than any other part of the face, our eyes communicate signals about us to every person we meet. Droopy, hanging skin around the upper and lower eyelids can communicate the wrong message by making us seem dim and tired to others. Blepharoplasty can help!
The approach Dr. Wells will take on your Eyelid Surgery in Baltimore and it varies per individual. All versions of the procedure involve removing excess skin and fat to make the patient appear more awake and alert.
Stem Cell & Fat Transfer
Youthful-looking skin is tight and smooth but also full and pliable. A Fat Transfer is ideal for those patients concerned about the sunken cheeks and ridges that give the face a skull-like appearance as we age. But Dr. Alyson Wells knows that you still have a lust for life and she wants to help you show it.
The rejuvenating effects of stem cell-rich fat injections to strategic regions of the face are subtle but miraculous.
Stem cells are a special kind of cell in the body with remarkable abilities to heal and grow. The fat that Dr. Wells uses in fat transfer has a particularly high concentration of stem cells. Stem cells are said to rejuvenate the face and skin and restore your youthful glow. This is because stem cells behave like more youthful cells.
Other Face Procedures
Tight and wrinkle-free skin can be easy to achieve at Valley Plastic Surgery & Medi-Spa. Dr. Wells and her team also offer a variety of other procedures. CO2 laser skin resurfacing treatments are performed by Dr. Wells herself.
CO2 Laser Skin Resurfacing
Laser skin resurfacing can be an alternative or a complement to surgery. The procedure treats superficial signs of aging not addressed in a facelift, like sun damage, age spots, scars and stretch marks.
The CO2 laser is the first laser designed to resurface the skin. The epidermis is stripped away while collagen production is stimulated in the skin's deeper layers. The frequently dramatic results around the eyes can replace the need for some cosmetic procedures.
Change the Way You Face the World
Our face not only impacts how we perceive the world, it also dictates how the world perceives us! 97% of human communication is nonverbal, and much of that is intuitive and unconscious. The health and appearance of our faces also has an impact on our own mental well-being. Dr. Alyson Wells knows all this well, which is why she's dedicated her professional life and practice to changing the way her patients face the world.
Valley Plastic Surgery & Medi-Spa is known throughout Baltimore and beyond for helping patients to recapture the energy and vivacity of youth. Visit Dr. Wells and at her North Baltimore offices to learn more.
FAQ
What do I do about my sagging face and cheeks?
If loose skin and muscle around the checks and mouth are making you look older than you feel, a facelift might be the procedure for you. In a mid-facelift, the cheeks and "smile lines" left from a lifetime of laughter and happiness are specifically addressed. 

A mini-facelift may also be what you're looking for. It is a less invasive procedure than the full facelift, producing subtler results and requiring a shorter recovery time. 
What can I do about the loose skin hanging off my neck?
Nobody likes a "turkey neck." Not even on Thanksgiving! Skin laxity increases as we mature. Advanced signs of aging include jowls and drooping skin at the lower face and neck. This excess skin is most visible in profile photos. A lower facelift and neck lift specifically targets these areas.
What if my eyes look tired? 
There are cosmetic procedures that can help. A brow lift or forehead lift will correct "worry lines" along the forehead and eyelid surgery can make the eyes appear wider and brighter.  

Both of these procedures, taken separately or done together, contribute to a sharp, alert appearance that is more typical of youth. 
What can I do about my sagging face?
Stem cell and fat transfer can help restore plump, vivacious contours to hollowed pockets in the face. More than that, stem cells are said to have rejuvenating properties all their own because of their unique regenerative abilities.  
Are there any non-surgical options for facial rejuvenation?
In CO2 laser skin resurfacing, directed energy is used to resurface the epidermis and stimulate collagen growth below. It can tighten the skin around the eyes while also treating unsightly scars and stretch marks. 
References
Park, D. M. (2015). Total Facelift: Forehead Lift, Midface Lift, and Neck Lift. Archives of Plastic Surgery, 42(2), 111. doi: 10.5999/aps.2015.42.2.111
Neck lift. (2019, March 30). Retrieved November 15, 2019, from https://www.mayoclinic.org/tests-procedures/neck-lift/about/pac-20384583.