Breast Lift (Mastopexy)
Offered at our convenient location in Baltimore, Maryland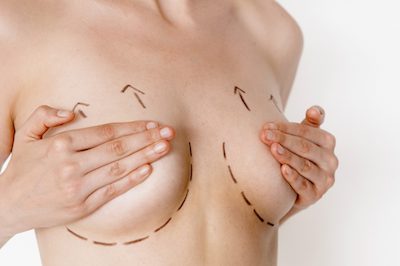 For women whose breasts have experienced the effects of gravity, time, breastfeeding and/or weight loss, the solution is often a breast lift.
Baltimore plastic surgeon Dr. Alyson Wells relies on her extensive training, her eye for aesthetics and her own female perspective to help women achieve youthful, beautiful breasts.
What is a Breast Lift?
The goal of a breast lift is to basically keep the same breast volume, but achieve a firmer, more uplifted and youthful appearance with more roundness and fullness. The nipple, which has descended toward the bottom of the breast, is elevated to a more cosmetically appealing level. A breast lift alone may not provide enough fullness in the top portion of the breast, and breast implants may be needed to improve the lack of volume in this specific area.
Before & After Photos
Incisions
A breast lift removes excess skin from the breasts to make them tighter and rounder, along with elevating the nipple and areola to address the sagging, loose or elongated appearance of the breast.
Full or Inverted-T Incisions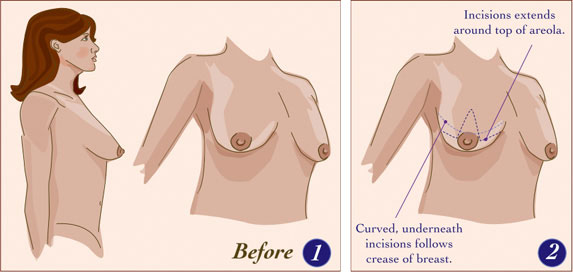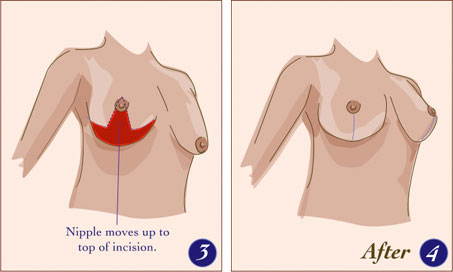 Vertical Technique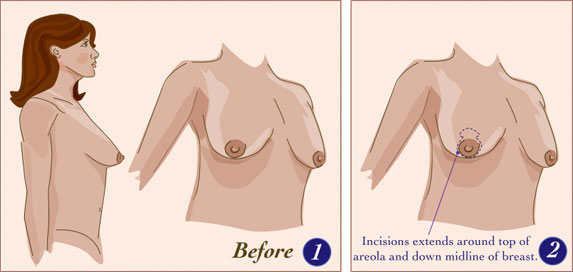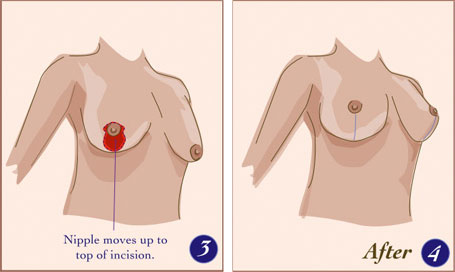 Depending on the amount of sagging, different incisions can be used for the procedure. Generally the more lifting that is required, the more extensive the incision (and therefore the scar). Visit the breast lift and breast reduction incisions page for more details on types of incisions.
Breast Lift with Augmentation
It is important to recognize that breast augmentation cannot correct significantly sagging or drooping breasts. In these instances, a breast lift may be necessary in conjunction with breast implants for the best cosmetic result.
Because loose, excess skin is removed and the remaining skin tightened after the breast implants are placed, the result is a total rejuvenation for a fuller, firmer, perkier appearance. Implants placed at the time of mastopexy are useful for achieving fullness at the top of the breasts and in the cleavage area.
Women also combine their breast lift with other procedures such as tummy tuck, liposuction, labiaplasty or BOTOX® for a complete mommy makeover.
Dr. Wells Welcomes Your Questions
Patients appreciate the knowledge Dr. Wells possesses, as well as her down-to-earth, attentive, thorough nature. She looks forward to the opportunity to talk with you about your breast lift so that you can make an informed decision and proceed with confidence.
Alyson Wells,
M.D., F.A.C.S.
Her rare combination of impeccable training, keen aesthetic sensibilities, technical skill and precision in plastic surgery sets this Baltimore surgeon apart from the rest.
If you live in or around Baltimore and breast lift is on your mind, request a consultation online or call (410) 628-8200 to learn how you can regain the youthful shape of your breasts and the confidence that goes with it.