Breast Lift (Mastopexy)
Offered at our convenient location in Baltimore, Maryland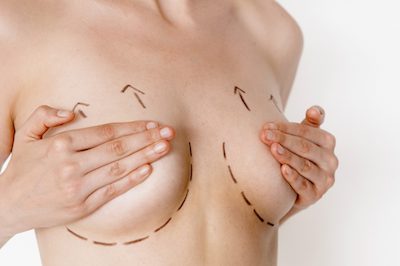 For women whose breasts have experienced the effects of gravity, time, breastfeeding and/or weight loss, the solution is often a breast lift.
Baltimore plastic surgeon Dr. Alyson Wells relies on her extensive training, her eye for aesthetics and her own female perspective to help women achieve youthful, beautiful breasts.
What is a Breast Lift?
The goal of a breast lift is to basically keep the same breast volume, but achieve a firmer, more uplifted and youthful appearance with more roundness and fullness. The nipple, which has descended toward the bottom of the breast, is elevated to a more cosmetically appealing level. A breast lift alone may not provide enough fullness in the top portion of the breast, and breast implants may be needed to improve the lack of volume in this specific area.
Before and After Photos
Candidates
Breast lift can enhance the confidence of patients who are experiencing loss of firmness, volume, and projection of the breasts. Breast lift surgery can provide you with long-lasting results that can help you look and feel your best.
Patients who are looking to undergo a breast lift have very diverse causes of drooping or sagging breasts. If you are interested in this procedure, you may have lost a significant amount of weight, may have experienced pregnancy, may have breastfed, and/or find laxity in your breasts as a result of aging. If you have rather large breasts and are experiencing chronic back pain as a result, you may be a candidate for breast reduction surgery, which will incorporate breast lifting techniques to achieve the desired breast size and position.
Candidates for breast lift surgery may fit the following criteria:
Experience drooping, sagging, lax, and/or deflated breasts;
Have nipples and areolas that point downwards;
Experience irritation of the skin underneath the breasts;
Desire perkier, fuller, and firmer feel and projection of the breasts;
Have uneven, or disproportionate breasts or areolas; and
Are relatively healthy.
Consultation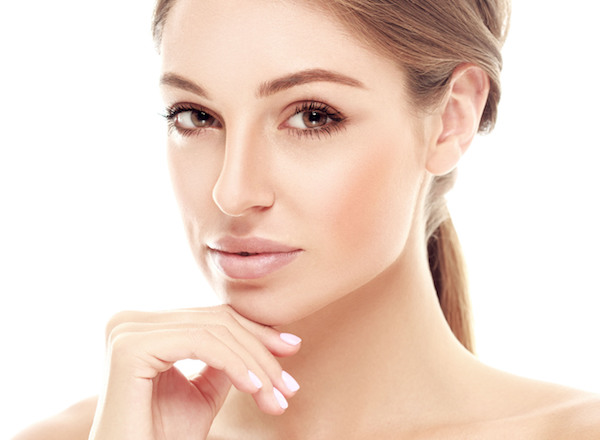 When you schedule a consultation with double board-certified plastic surgeon, Dr. Alyson Wells, you are taking a step towards enhancing how you feel about your body and appearance. Patients will meet with Dr. Wells to discuss how ptosis of their breasts is affecting their lives and feelings about their appearance. Dr. Wells will listen to your concerns with empathy and answer your questions using her in-depth knowledge of breast lift surgery. Dr. Wells will ask about your medical and health history, including information regarding any future plans to become pregnant or to gain or lose significant weight, as these factors could influence the long-term results of your breast lift surgery.
A physical examination will follow, as well as a discussion regarding approaches to breast lift surgery.
If you are deemed an appropriate candidate for breast lift, Dr. Wells will suggest the personalized surgical approach that may be best suited for your specific anatomy and your desired outcome. Dr. Wells will discuss complementary procedures if your expectations are not suited for a breast lift alone. Once an approach is decided upon, a cost estimate and surgery preparation instructions will be provided.
If you believe you are a candidate or are simply exploring the idea of breast lift surgery in Baltimore, contact Valley Plastic Surgery today to schedule a private consultation with Dr. Alyson Wells.
Incisions
A breast lift removes excess skin from the breasts to make them tighter and rounder. The procedure elevates the nipple and areola to address sagging, loose or elongated appearance of the breast.
Crescent Incisions
Crescent incisions are utilized during a breast lift when there is minimal sagging to the breast. The incision is made halfway around the top edge of the areola. This type of incision is often used when the patient is also having a breast augmentation as a part of the procedure.
Peri-Areolar or Doughnut Incisions
Peri-areolar or doughnut incisions are used to correct mild sagging of the breast. An advantage of this incision is that it results in a single, discreet scar on the breast. The doughnut incision runs around the perimeter of the areola, providing opportunity to reduce the size of the areola. The peri-areolar lift, like the crescent lift, is often utilized in conjunction with a breast augmentation.
Vertical or Lollipop Incisions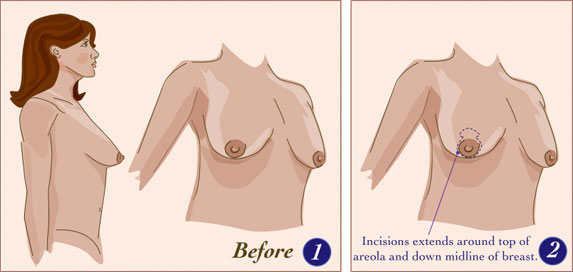 The vertical or lollipop incision is very common in breast lift procedures. The vertical lift is used to correct moderate sagging and to reshape the breast. Excess skin is removed from the breast and results in 2 easily hidden scars.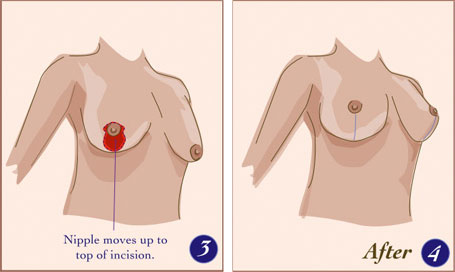 The incisions resemble a "lollipop" as the first part of the incision runs around the areola, and the secondary incision runs vertically from the bottom of the areola into the inframammary fold.
Full, Inverted-T, or Anchor Incisions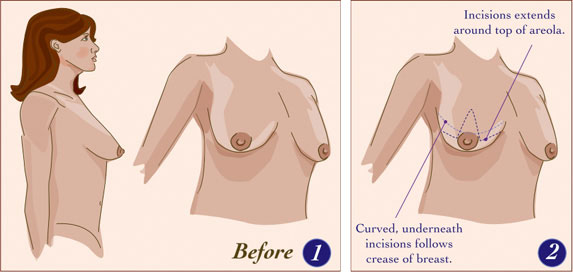 This extensive breast lift technique corrects excessive sagging and also provides the most dramatic reshaping of the breast. The inverted-T incision is used if the patient is also undergoing a breast reduction in addition to a breast lift during the procedure. The anchor lift is created using 3 incisions. The first incision is made around the areola, providing opportunity to reduce the size of the areola, if needed.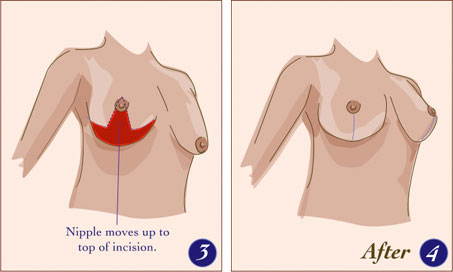 The second incision is made vertically from the bottom of the areola to the inframammary fold, as in the lollipop lift. The last incision is made running along the inframammary fold. The full breast lift results in the most visible scarring, however, with appropriate care post-op, the visibility of the scars can be significantly reduced as the incisions heal.
Depending on the amount of sagging, different incisions can be used for the procedure. Generally the more lifting that is required, the more extensive the incision (and therefore the scar). Visit the breast lift and breast reduction incisions page for more details on types of incisions.
Complementary Procedures
Based on your personal goals, you may seek to have breast lift surgery in tandem with other procedures. This is an opportunity for you to achieve the overall aesthetic you are seeking, in one or two operations. Complementary procedures can focus on the breasts, or target a variety of other areas of the body.
Breast Augmentation
Patients who desire to achieve upper pole fullness could benefit from an augmentation with implants in combination with their lift.
Breast Reduction
Many individuals who may benefit from a breast lift also have large breasts that may be causing back and neck pain. Reducing the amount of breast tissue, in addition to lifting and shaping the remaining tissue, may not only improve aesthetic quality of the breasts, but also the patient's quality of life.
Tummy Tuck (Abdominoplasty)
For those who have experienced pregnancy or significant weight loss, breast lift with tummy tuck can allow patients to increase their confidence by improving their profile and forward-facing appearance.
Liposuction (Lipoplasty)
Liposuction can be utilized to remove undesirable fat deposits in certain areas of the body. Breast lift with liposuction can dramatically improve the patient's overall silhouette.
Labiaplasty
Patients looking to reclaim youthfulness of their bodies may opt for labiaplasty in addition to breast lift. Labiaplasty trims away excess skin of the labia and contours the skin to provide a neat appearance.
Mommy Makeover
The mommy makeover is a combination body contouring procedure that addresses several target areas during surgery. Breast lift as part of a mommy makeover is common. These patients wish to tone their figure following childbearing or significant weight loss.
Cost
The approach to your breast lift surgery will be unique to you. Because of this customized procedure, costs will vary based on what is needed to achieve your desired aesthetic. Also, costs will be determined based on if any additional procedures will be conducted during the operation. Baltimore's Valley Plastic Surgery offers financing options to assist you with affording your breast lift procedure. For private pay patients, Valley Plastic Surgery accepts Visa, Mastercard, Discover, check, and cash for all services and procedures.
Contact Valley Plastic Surgery today to schedule your consultation with Dr. Alyson Wells and to receive a personalized quote for your breast lift surgery.
Dr. Wells Welcomes Your Questions
Patients appreciate the knowledge Dr. Wells possesses, as well as her down-to-earth, attentive, thorough nature. She looks forward to the opportunity to talk with you about your breast lift so that you can make an informed decision and proceed with confidence.
Alyson Wells, M.D., F.A.C.S.
Her rare combination of impeccable training, keen aesthetic sensibilities, technical skill and precision in plastic surgery sets this Baltimore surgeon apart from the rest.
If you live in or around Baltimore and breast lift is on your mind, request a consultation online or call (410) 628-8200 to learn how you can regain the youthful shape of your breasts and the confidence that goes with it.