Breast Reduction
Offered at our convenient location in Baltimore, Maryland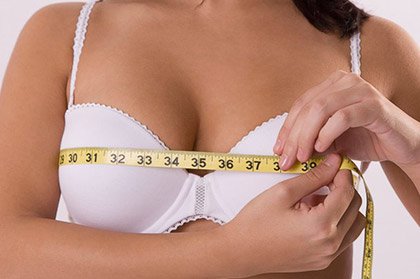 For women with overly large, heavy breasts, Dr. Alyson Wells removes excess breast fat, glandular tissue, and skin through a procedure called reduction mammaplasty, or breast reduction.
For Baltimore women who want to alleviate heaviness in the chest, achieve better proportions, and gain relief from physical and social discomfort, breast reduction can be life-changing. Breast reduction surgery helps you feel better, not only physically, but also about yourself. Everyone will see the difference in how you carry yourself; many will ask if you have lost weight; few will know the truth behind your metamorphosis.
Benefits of Breast Reduction
Some women have struggled with large, heavy breasts and may have experienced a decrease in the quality of their lives as a consequence of their volumptuous busts. Following a reduction mammaplasty, you can experience the following benefits:
Less pain and discomfort in your neck, shoulders, and back;
Better posture;
Elimination of skin irritation underneath the breasts;
Increased comfort when performing various exercises;
Decrease in indentations in the shoulders from bra straps;
Better body proportion;
Enhanced self-esteem in certain clothes; and
Increased confidence.
Are You a Good Candidate for Breast Reduction?
Ideal candidates for reduction mammaplasty are women with large, heavy, and disproportionate breasts. These women are in good health and do not smoke. Overall, candidates for breast reduction have realistic expectations for their results. Breast reduction may be a good option for you if:
You experience back, neck and shoulder pain caused by the weight of your breasts
You have indentations or grooving on your shoulders from bra straps supporting heavy, pendulous breasts
You have skin irritation beneath the breast crease
Your breasts limit your physical activity
You are bothered by the feeling that your breasts are too large
You receive unwanted attention that is focused on your breasts
You have difficulty finding shirts and blouses that fit properly over your breasts
Your breasts hang low
You have stretched skin and enlargement of the areola (pigmented area around the nipple)
Your nipples rest below the breast crease when your breasts are unsupported
Some women also choose other procedures such as tummy tuck, liposuction, labiaplasty or JUVÉDERM® for a complete mommy makeover.
Before and After Photos
Consultation
Scheduling your private consultation with double-board-certified plastic surgeon, Dr. Alyson Wells, is the first step to making your breast reduction a reality. When you come in for your consultation, you will have the opportunity to share with Dr. Wells your concerns, questions, and goals.You will also discuss your medical and health history. Dr. Wells will listen closely as you explain what you are looking to achieve and take time to answer your questions with care.
Dr. Wells will use her expertise to provide you with detailed information regarding the reduction mammaplasty procedure.
After your candid conversation, Dr. Alyson Wells will perform a physical examination of your breasts and discuss the different approaches to a breast reduction, identifying the ideal, customized approach to meet your goals. If your needs would be better met by a different procedure, Dr. Wells will provide you with her professional medical opinion in order to allow you to make an informed decision. Once Dr. Wells determines that you are a candidate for breast reduction, a cost estimate and pre-op instructions will be provided. 
If you are a candidate for reduction mammaplasty, contact Valley Plastic Surgery today to schedule your personal consultation with Dr. Alyson Wells.
Procedure
A breast reduction is a surgery to physically reduce the size of the breast by removing excess tissues that may have impeded on your lifestyle in the past. Dr. Wells will mark your body, indicating the incision placement and general amount of fat, glandular, and skin tissue to be removed. 
Dr. Alyson Wells will meet with you prior to your reduction mammaplasty and go over the procedure plan that was created especially for you.
After you are administered anesthesia by a board-certified anesthesiologist who will ensure your comfort during surgery, Dr. Wells will carefully follow the markings on your breasts as she makes the necessary incisions. From there, the precise amount of breast tissue will be removed and the breast will be shaped appropriately. As Dr. Wells closes the incisions, she takes special care to minimize scarring on your now smaller breasts.
Incision Types
The incisions most often used for a breast reduction are just like 2 of those used for breast lifts (refer to the vertical and inverted T incisions on the breast lift and breast reduction incisions page).1 They are typically very cosmetically acceptable. The incisions should not be visible in a bathing suit or other more revealing clothing.
VERTICAL or LOLLIPOP Technique
This approach to reduction mammaplasty makes use of two incisions. The first incision is made along the edge of the areola and the second incision runs vertically from the bottom edge of the areola towards the inframammary crease.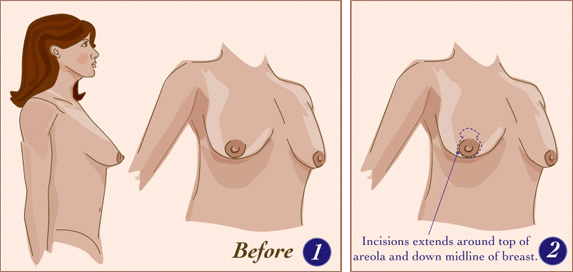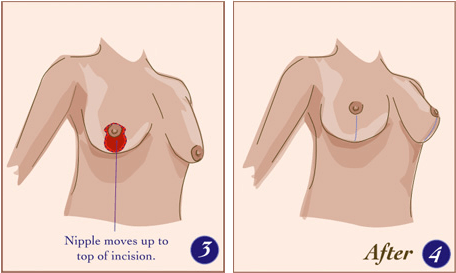 FULL, INVERTED-T, or ANCHOR Technique
The full, inverted-T, or anchor technique is an extensive approach to the breast reduction. Utilizing this approach, Dr. Wells will make an incision around the edge of the areola, a second incision that runs vertically from the bottom of the areola towards the inframammary fold (as in the vertical technique), and a third incision along the breast crease.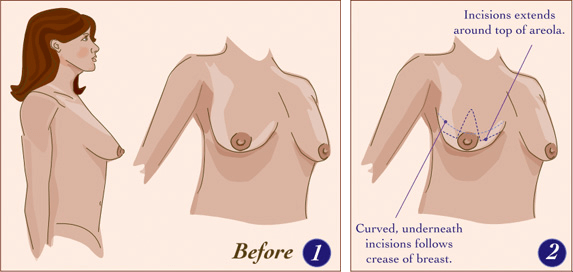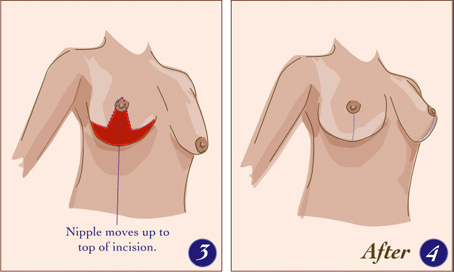 In either instance, the excess fat, breast tissue, and skin will be removed and the remaining tissue will be expertly shaped and the incisions will be closed. 
In some circumstances (but not all), insurance may cover the cost of a breast reduction. Our knowledgeable staff will help you with questions about insurance.
Recovery After Breast Reduction
Following your breast reduction surgery, you may experience some discomfort as your body heals. You may have swelling, soreness, and tingling in your breasts after surgery. You will need to wear a surgical bra following reduction mammaplasty to provide support and control swelling. There may be drains placed in each breast to remove fluid from the surgery sites.2 You will be given directions on how to empty and clean the drains until they are to be removed at a follow-up appointment with Dr. Wells. 
The rate at which you will heal from breast reduction depends on your body's natural healing process, the extent of your reduction mammaplasty, and aftercare. You should follow all pre- and post-op directives closely to ensure proper healing. Many patients are able to return to work one week following surgery. You may be able to resume regular activity 3 to 4 weeks after breast reduction.3
Cost
There are many factors to consider when looking into the cost of a breast reduction surgery. These factors can widely vary between patients because each woman's needs and desires are unique to them. During your private, one-on-one consultation with Dr. Alyson Wells, she will take your goals and the necessary processes into consideration to be able to provide you with a customized price breakdown. 
Dr. Wells wants to make your breast reduction procedure affordable. This is why Valley Plastic Surgery offers special financing for reduction mammaplasty. In addition to offering a variety of payment options such as cash, check, debit, and many credit cards, Dr. Wells participates in a number of insurance panels. If your reduction mammaplasty meets requirements for medical necessity, it may be possible to have your surgery paid for, in whole or in part, by your insurance company. Contact your insurance provider to confirm your medical benefits.
FAQ
How long will the results of my breast reduction last?
A breast reduction is long-lasting, barring any significant fluctuations in weight, pregnancy, or hormonal considerations. Normative changes that come with aging are to be expected. Dr. Alyson Wells will address any concerns you may have about reduction mammaplasty. We encourage you to schedule a consultation with Dr. Wells to discuss your future child-bearing or weight loss plans, as well as any hormonal concerns you may have.
What are the risks of reduction mammaplasty?
As with any surgical procedure, there are risks. Having double-board-certified surgeon Dr. Alyson Wells perform your breast reduction is an excellent way to mitigate potential risks. Dr. Wells is expertly trained in providing you with amazing aesthetic results, as well as ensuring your safety before, during, and after surgery. 
What size will my breasts be after breast reduction?
The final results of your reduction mammaplasty may not be evident until about 1 year post-op. Dr. Wells will carefully remove the appropriate amount of fat, glandular tissue, and skin from your breasts to provide you with the bust size you desire. While your individual results may vary, many patients can expect to have their breasts reduced 1-2 cup sizes following breast reduction. 
Additional Resources
Waltho, D., Kaur, M., Farrokhyar, F., Banfield, L. E., & Thoma, A. (2016). Inverted T versus vertical scar incision technique for women undergoing breast reduction surgery. Cochrane Systematic Review, (2). doi: https://doi.org/10.1002/14651858.CD012094
American Society of Plastic Surgeons. (2019). Breast Reduction. Retrieved from https://www.plasticsurgery.org/reconstructive-procedures/breast-reduction/recovery
American Board of cosmetic Surgery. (n.d.). Breast Reduction Guide. Retrived from https://www.americanboardcosmeticsurgery.org/procedure-learning-center/breast/breast-reduction-guide/
Dr. Wells Welcomes Your Questions
Individuals interested in plastic surgery look to Dr. Wells for her kind, patient-centered disposition, her experience and her exceptional results. She will take the time to address your concerns so you can confidently make the choice to proceed with your breast reduction or other treatments.
Alyson Wells, M.D., F.A.C.S.
Her rare combination of impeccable training, keen aesthetic sensibilities, technical skill and precision in plastic surgery sets this Baltimore surgeon apart from the rest.
If you live in or around Baltimore, discover how a breast reduction can improve your quality of life. request a consultation online or call (410) 628-8200 to meet with Dr. Alyson Wells, a board-certified plastic surgeon.