Microneedling
Offered at our convenient location in Baltimore, Maryland
Microneedling is a non-surgical method of rejuvenating the skin on your neck, face and decolletage. The treatment is quick, convenient, and comfortable.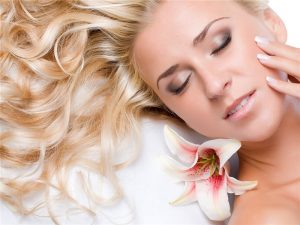 Time, stress and sun exposure take a daily toll on our skin. Give your dry, dull, scarred, or aged skin a fresh start with Microneedling at Valley Plastic Surgery. If you want to banish scars, discoloration, fine lines, and wrinkles from your skin, microneedling will transform your rough, tired skin into a smooth, glowing appearance!
Dr. Alyson Wells frequently combines Microneedling with PRP Treatment to dramatically improve healing and procedure outcomes. To learn more about how a custom-tailored Microneedling treatment will completely revive your skin, call the helpful staff at Valley Plastic Surgery & Medi-Spa to schedule your private consultation today.
What is Microneedling?
Microneedling is a non-surgical treatment that promotes skin renewal by penetrating the skin with tiny medical grade needles. The procedure adds youthful volume, clears imperfections, and achieves a smoother, glowing appearance.
Patients who are interested in optimizing their rejuvenation can add PRP application to their microneedling treatment.
During a microneedling treatment, the fine needles create micro-channels in the skin. The micro-channels will signal the need for skin healing and create pathways for newer, healthier skin to reach the surface. The micro-channels additionally make it easier for the medical-grade skin products you are already using—Vitamin C, retinols, and acids—to penetrate more deeply, improving their effectiveness.
Microneedling, also known as Collagen Induction Therapy, is a highly popular procedure because it addresses both the deep health and topical appearance of the skin. The medical-grade needles will penetrate to the levels of the dermis responsible for collagen production.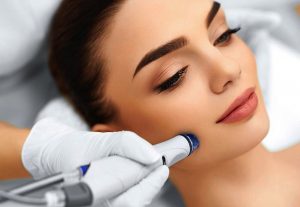 The treatment effectively jumpstarts collagen production, restoring lost volume and filling in lines and wrinkles. The micro-channels created by the treatment will accelerate skin renewal. Newer, collagen-rich skin will work its way to the surface four to six weeks following the treatment.
Best outcomes are seen with microneedling after three treatments.
Microneedling is a gentle, natural form of skin resurfacing. The procedure stimulates your body's natural healing processes to accomplish beautiful skin renewal. The treatment deeply improves the health of the skin, and it shows! Address your blemishes, smooth your wrinkles, and enjoy a healthy, youthful glow, with microneedling.
PRP, or platelet-rich plasma, can be applied topically following microneedling to improve healing profiles and achieve a more noticeable glow. Collagen development is even more pronounced following microneedling with PRP. PRP has the impressive ability to strengthen the structure of the skin cells themselves!
Microneedling with DermaPen
We perform microneedling at Valley Plastic Surgery with DermaPen. The DermaPen advanced microneedling design allows your skincare specialist to control the depth of the microneedles and achieve uniform distribution across the skin. The fine medical-grade needles reach cleanly and deeply into the skin without straining or pulling on the skin.
Older microneedling techniques such as dermal rolling pierced the skin at imperfect angles, tearing and straining the skin in the process. DermaPen improves outcomes and healing times!
Alyson Wells,
M.D., F.A.C.S.
Her rare combination of impeccable training, keen aesthetic sensibilities, technical skill and precision in plastic surgery sets this Baltimore surgeon apart from the rest.
What is PRP?
PRP, or platelet-rich plasma, is a natural component of our own blood that is rich in proteins and growth factors. PRP application has shown to improve healing outcomes for athletes, promote hair growth, and stimulate collagen production when introduced to the deep dermis.
When applied to the skin, PRP accelerates the rate of healing and combats inflammation.
Patients have the option of receiving PRP application at the same time as their microneedling. In order to prepare your PRP serum, we will take a blood sample when you arrive for your microneedling appointment. The blood will be processed through a centrifuge to separate out the red blood cells. The remaining platelets will be prepared for topical application following your microneedling session. The micro-channels will allow the PRP to soak deeply into the tissue and improve the health of the skin itself.
Microneedling with PRP application results in faster healing, more robust collagen production, and higher quality skin rejuvenation overall. Patients who receive PRP application with their microneedling enjoy better results, faster. The skin heals in four to five days after PRP application. Results are similar to those accomplished with a chemical peel!
Patients can receive microneedling with PRP application, or they can receive microneedling as a stand-alone procedure.
Why Should I Choose Medical Microneedling?
Does your skin need a pick-me-up? If you are unhappy with the quality of your skin and have multiple issues you would like to address, consider Microneedling! Microneedling treats multiple skin concerns at once for comprehensive rejuvenation.
Benefits of Medical Microneedling include:
Smooth away fine lines and wrinkles
Improve or eradicate vertical lines around the lips
Reduce acne scars and blemishes
Add youthful volume
Tighten pores
Jumpstart collagen production
Improve uptake and effectiveness of nourishing serums (medical grade skin products)

Reduce hyperpigmentation and even skin tone
Erase stretch marks from the body
The long-term improvement in the feel and appearance of your skin
Minimally-invasive procedure
Treatment is short
Comfortable Treatment
Achieve a healthy glow!
No downtime required

Is Microneedling Right for Me?

Microneedling is a simple procedure that treats a wide variety of skin issues, for a wide audience of patients. In fact, microneedling is safe to use on any tone or type of skin. Men and women of all ages and backgrounds can completely rejuvenate their skin with a regimen of custom-tailored microneedling treatments!

Medical microneedling is a one-stop solution!

If you have acne scars, large pores, fine lines, wrinkles, discolorations, or other issues that detract from your appearance, you are a good candidate to renew your skin with microneedling. Individuals who want to see major improvements in their skin health and volume are excellent candidates for the benefits of microneedling with PRP application.

But if you have active acne or a cold sore, you will need to wait to receive your microneedling until after these conditions resolve themselves.

Resurfacing Lasers Vs. Microneedling

Resurfacing Laser treatments improve skin tone by applying heat to break up pigmentation, tighten the collagen, and induce the production of new cells in the skin. While laser treatments are a great option for certain candidates, these treatments are usually the safest and most effective for patients with lighter skin pigmentation. This limits the candidate pool for laser skin resurfacing.

Laser has incomparable skin resurfacing results, but some people may not want the downtime, cost, or general anesthesia involved with laser.

Microneedling does not apply heat to the skin. There is no harm done to the skin during microneedling. The microneedles will create "micro wounds," which trigger skin healing and renewal. Skin will be red and flushed following Microneedling, as well as after Laser Resurfacing. The treated area will appear flushed following microneedling, but any redness will subside within days of the treatment.

What to Expect During Your Consultation

During your consultation for microneedling, your skin care specialist will discuss your unique skin with you. After we have a clear sense of your goals for your appearance, we will customize a microneedling treatment plan for you. If your skin needs more pronounced renewal, we may recommend that you combine Microneedling and PRP application. If an alternative treatment will be better to achieve your preferred results, we will share our professional opinion with you.

Your private consultation is our chance to get to know you and your skin. Every treatment at Valley Plastic Surgery is tailored to YOU. You are invited to ask any questions that you may have during your private consultation. We want you to feel comfortable, from start to finish!

Treatment Process

Depending on the details of your treatment, your microneedling session will last from thirty to sixty minutes. If you will be enhancing your microneedling with PRP application, we will take a blood sample at the beginning of your session.

A numbing topical cream will be applied and given thirty minutes to take effect, or you can conveniently apply the numbing cream prior to arrival.

The numbing topical cream will help to keep you comfortable during your treatment.

Some patients say that the forehead is the most uncomfortable area to receive microneedling, but that any discomfort is tolerable. In some patients, small injections of numbing medicine are used in addition to the topical cream for even more comfort.

The length of the needle will depend on the treatment area and the needs of your skin.

During your microneedling treatment with DermaPen fine, medical grade needles will be administered to the skin at a ninety-degree angle. DermaPen allows your skincare specialist to control the depth and application of the needles to guarantee even distribution and ideal outcomes.

Hyaluronic Acid or other serums can be applied to the needles to improve penetration into the skin. Once the micro-channels have been created in your skin, patients who will be receiving the renewing, collagen-boosting benefits of PRP will receive their PRP serum at this time. The PRP will penetrate deep into the lower levels of the dermis to strengthen the structure of the skin cells.

Microneedling will jumpstart your skin's natural healthy function.

Microneedling naturally stimulates skin healing; PRP will accelerate and enhance this renewal process. Depending on the needs of your skin, customized nourishing serums (medical-grade skin care products) will be applied to your skin at the conclusion of your treatment.

You will enjoy fuller skin, a more even skin tone, and a luminous glow.

Want More Volume?

Microneedling, and especially microneedling with PRP, has been shown to stimulate collagen production and dramatically improve volume texture of their skin.

Patients who wish to add youthful volume in targeted areas of their face can achieve their ideal rejuvenation with an autologous fat transfer. Fat for transfer is most frequently collected from the abdomen or thighs. When Dr. Wells harvests fat for transfer from your body, she slims and contours the donation site, adding an additional benefit to the procedure. She takes care to collect fat that is rich in stem cells, which "behave" like youthful cells and promote higher rates of renewal.

Patients who are interested in volumizing and contouring their facial features with a fat transfer are invited to ask about rejuvenation with fat transfer during their private consultation. The combination of microneedling with the stem-cell effect of fat transfer has a dramatic effect on the overall appearance of the skin!

If you are looking for a quick, convenient way to fill in fine lines and wrinkles and restore lost volume, we can work with you to customize a rejuvenating treatment with Dermal Fillers. Dr. Wells and her highly trained staff are here to help you look and feel your best with your healthiest, most beautiful skin!

Recovery

Minimal downtime is required after Microneedling. You will be able to return to your daily activities immediately after your session.

We will give you personalized recovery instructions to help you see your best results and most comfortable recovery.

Your skin may be red or feel dry after your microneedling treatment. Some patients describe the sensation as similar to a sunburn. Mild scabbing or flaking may occur, but this is normal and will heal quickly with proper care. Redness can be concealed with mineral makeup. After several days, patients can return to non-mineral makeup. If you choose, you may wish to take one to two days off from work until any redness subsides.

You will notice an improvement in your skin's tone within a day to a few days after your microneedling treatment.

You will also receive a moisturizer or other nourishing topicals to help counter this redness and keep your skin happy and hydrated after your treatment. When applying these creams or touching your face for any reason, make sure your hands are clean. Avoid using scrubs, exfoliants, and products which contain acid for the week following your microneedling. Do not wax during this time. Practice safe sun exposure and try to avoid direct sun during your recovery.

The volume and texture of your skin will improve over the weeks following your procedure as newer, collagen-rich skin works its way to the surface.

Patients who receive PRP application will see faster healing times after their microneedling. Skin will heal in 2-3 days, as opposed to 3-4 days after a standard DermaPen treatment.

After microneedling, you will notice that your skin is fuller and smoother. There will be a major reduction in your scars, blemishes, and discolorations, as well as your fine lines and wrinkles. Patients who receive microneedling with PRP application see more robust collagen development.

Your best results will be noticeable after three to four treatment sessions. Dr. Wells recommends placing your microneedling treatments two to four weeks apart to see your most pronounced rejuvenation.

Cost of Baltimore Microneedling

The price of a microneedling treatment will depend on the details of your individualized treatment plan. For example, the size of your treatment area, the number of microneedling treatments you will receive, and the inclusion of PRP application will affect your microneedling pricing.

If you are interested in learning more about your skin rejuvenation treatment options, simply call Valley Plastic Surgery at (410) 628-8200. We look forward to meeting you!