Liposuction (Lipoplasty)
Offered at our convenient location in Baltimore, Maryland
Liposuction is one of the most common plastic surgery procedures performed for body contouring and sculpting.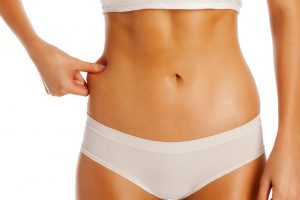 If you're considering liposuction in the Baltimore, MD, area, Dr. Alyson Wells, a board-certified plastic surgeon, and her staff at Valley Plastic Surgery will make you will feel welcome and confident about your procedure. Dr. Wells' kind and caring demeanor puts people at ease. Her thorough manner and extensive medical knowledge assure clients that their treatments will be performed with great skill and precision.
About Liposuction
Liposuction is the removal of fat deposits below the skin using a cannula — a hollow stainless steel tube or "straw" connected to a vacuum source. Baltimore area liposuction specialist Dr. Wells uses this procedure to remove larger areas of excess fat or help contour problem areas such as the abdomen, thighs ("saddle bags"), hips, upper arms and back.
Liposuction can be performed alone, but can also be performed with other procedures such as a tummy tuck.
Tumescent Fluid Technique
The tumescent technique is the most widely used type of liposuction procedure. Tumescent fluid — a dilute solution containing adrenaline and anesthetic — is injected into the treatment area. The adrenaline constricts blood vessels and reduces blood loss and the anesthetic minimizes post-operative discomfort.
Liposuciton incisions can be placed so that they are hidden beneath clothes or a swimsuit.
The cannula is moved forward and backward through the tissue, loosening the connections within the fatty tissue. A suction device attached to the opposite end of the cannula removes the fat in small globules.
Following the procedure, the tiny incisions are closed with stitches. Some incisions are so small that they can heal without stitches. These scars are typically placed in the natural lines and contours of the skin for the best cosmetic appearance.
Who Is a Candidate for Liposuction?
Liposuction is not an effective treatment for cellulite or obesity. This procedure is best for women or men of ideal or nearly ideal weight who have localized deposits of fat that have been resistant to diet and exercise.
The skin overlying the area to undergo liposuction must have sufficient elasticity so it can "shrink wrap," or conform to the new contours. An area that is stretch-marked or has lots of excess skin would be better suited to a body contouring procedure.
Candidate Requirements
Healthy and relatively fit
Firm, elastic skin
Good muscle tone
Within 30% of ideal weight
Are Liposuction Results Permanent?
Although fat cells are permanently removed from the treatment area during the procedure, liposuction does not prevent additional weight gain. In order to maintain the results from your procedure, it is important to follow a healthy diet and exercise routine.
Alyson Wells,
M.D., F.A.C.S.
Her rare combination of impeccable training, keen aesthetic sensibilities, technical skill and precision in plastic surgery sets this Baltimore surgeon apart from the rest.
If you wish to permanently slim down the trouble areas of your body that are resistant to diet and exercise, request a consultation online or call (410) 628-8200. Allow Dr. Wells to answer your questions and guide you to the treatment that's just right for you.