You may be pleasantly surprised at the affordability of changing your look and your life with cosmetic procedures at Valley Plastic Surgery and Medi-Spa. Financing is available to help you cover up to 100% of the cost of your medical spa or cosmetic plastic surgery procedure in Baltimore County. Our office can direct you to several financial resources, which can be discussed in detail following your consultation.
To find out how affordable your life-changing cosmetic procedure can be, first request a consultation online with Dr. Alyson Wells or call (410) 628-8200 to schedule your appointment.
Following your appointment, you will be provided with a detailed outline of fees for your particular procedure(s).
Payment Options
For the convenience of our patients, we accept Visa®, MasterCard®, Discover® Network, checks, debit cards and cash.
CareCredit® for Cosmetic Procedures
We are pleased to offer our patients the option of using CareCredit®, North America's leading patient payment program. The CareCredit card is just as easy to use as a regular credit card, but it is designed specifically for your health care and cosmetic procedure needs. Best of all, CareCredit offers convenient payment plans without hidden costs. There are even some plans without any interest. You can use your CareCredit card over and over, up to your approved spending level.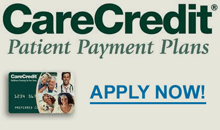 Reconstructive Procedures
Valley Plastic Surgery and Medi-Spa accepts health insurance for medically necessary and reconstructive procedures. Dr. Wells participates with many insurance providers. Please call her office to check if she participates with your particular insurance company or HMO.