Tummy Tuck (Abdominoplasty)
Offered at our convenient location in Baltimore, Maryland
Tummy tuck at the Baltimore, MD practice of Dr. Alyson Wells is very popular, and has a very high rate of patient satisfaction.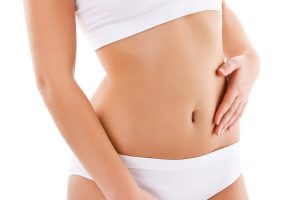 Women often choose a tummy tuck after pregnancy to restore tone and shape to the lower abdomen and to eradicate lax abdominal skin and stretch marks. As undesirable changes in these areas typically persist despite proper diet and exercise, they can make the abdomen appear disproportionate with the rest of the body.
About Tummy Tuck
While a tummy tuck can be performed alone, oftentimes women in and around Baltimore combine tummy tuck procedures with liposuction, arm or thigh lifts or breast enhancements for a complete mommy makeover to further improve body contours. For a more comprehensive treatment, consider a lower body lift.
Factors such as substantial weight loss, multiple pregnancies and genetics can contribute to the development of loose skin, fat deposits and stretch marks in the abdominal region. In addition, the vertical abdominal muscles usually stretch and separate after pregnancy or weight gain.
A tummy tuck removes loose skin, fat deposits and stretch marks from the lower abdominal region below the navel. It restores the appearance of a firmer, flatter abdomen and a trimmer waistline by repairing the underlying muscles. A tummy tuck is not a treatment for obesity or a substitute for proper diet and exercise. Tummy tuck candidates should be healthy and relatively fit.
Before & After Photos
Types of Tummy Tucks
The length and shape of the incisions will depend on the extent of treatment and the contours of your body. Typically the incision is hidden by a bathing suit or undergarments.
Mini Abdominoplasty | Partial Tummy Tuck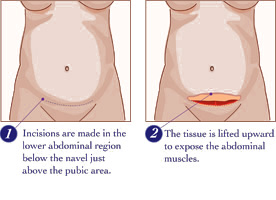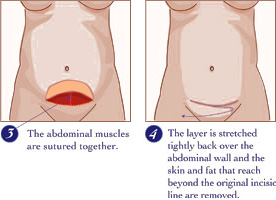 Abdominoplasty | Tummy Tuck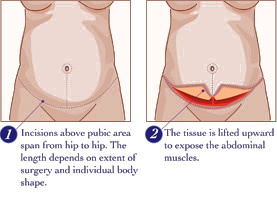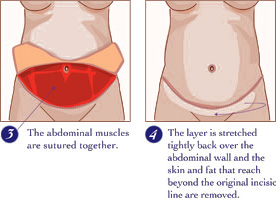 Lower Body Lift | Circumferential Incision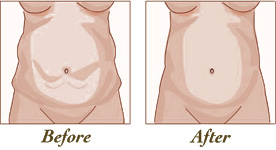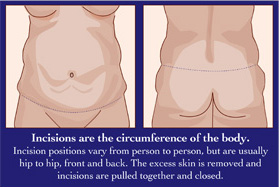 Full Tummy Tuck
A full tummy tuck typically requires 2 incisions:
An incision just above the pubic area that spans from one hip bone to the other
A virtually unnoticeable incision around the navel
Mini Tummy Tuck
A mini tummy tuck usually involves only 1 incision because an incision around the navel is not required. A smaller incision is made just above the pubic area. This limited procedure is appropriate for some individuals who have skin excess and laxity restricted to the area below the navel, and who may have more limited separation of the abdominal muscles.
Frequently Asked Questions
What can I expect during recovery after a tummy tuck?
Following your surgery in our accredited surgery center and observation in our post-anesthesia recovery area until you are awake and comfortable, you will return home or to your hotel with a family member or friend. Most patients will have moderate discomfort that is easily treated with a combination of anti-inflammatory and pain medications. Many patients describe milder discomfort, which we attribute to optimization of our regimen with long-acting numbing medicine that is given during the procedure. You are encouraged to be up and walking around your house or hotel room several times each day, but otherwise you should be lounging in a recliner with your feet elevated. You will have drains that wick away and collect fluid from the abdomen area and an elastic binder that you wear for comfort and support. Most patients are able to return to work about 2 weeks following their procedure and return to exercise at 3 to 4 weeks.
Will it help my recovery to be in shape before I have a tummy tuck?
Patients are always encouraged to be at an optimal weight and be in good physical shape prior to any cosmetic procedure, particularly with a tummy tuck (abdominoplasty). Being at or near your ideal weight decreases the risks of anesthesia and improves your wound healing abilities, as well as gives you the best chance for an excellent cosmetic result.
Do I really need surgery to firm up my midsection after having 2 babies? Shouldn't I just exercise more?
Dr. Wells is an advocate of improving how you look with diet and exercise first, then considering a tummy tuck procedure if the body you once had (or always wanted) is just not achievable with diet and exercise alone. Many, many women get back to their pre-baby or near their pre-baby weight only to find that the lax, stretch-marked skin at their lower abdomen is not going away no matter what they add to their exercise routine. Or, their plank position is now accompanied by hanging tissue or protrusion from the central part of their abdomen because of separation of the abdominal muscles (rectus diastasis) as a result of pregnancy. Exercising more will lead to weight loss, improved cardiovascular fitness, and stronger muscles, all of which we highly encourage, but likely will not lead to further improvement in how you look in a bikini if you have the skin laxity and muscle separation.
How do I know if I need a tummy tuck or liposuction?
The good news is that you don't need to know that when you make your consultation appointment at Valley Plastic Surgery! That is precisely why sophisticated patients choose Dr. Wells. Utilizing her experience and expertise in all areas of body contouring, she will offer you customized and personalized options to achieve your personal goals. Some patients have profound skin laxity at the abdominal area and muscle separation that is best addressed by a tummy tuck procedure, whereas other patients have tighter skin and stubborn regional fatty deposits that are amenable to liposuction. Dr. Wells will help you in determining which procedures will be most effective for you and if you are a good candidate for the procedure you would like to have.
How much does a tummy tuck cost?
The fees associated with a tummy tuck, similar to other cosmetic procedures, depend upon several factors, so it is difficult to give an absolute cost. Valley Plastic Surgery is knowledgeable about regional and national trends in costs associated with providing this procedure, including the costs associated with the anesthesia and the operating room, and we strive to be competitive with plastic surgeons in the Baltimore-Washington area.
However, some variability in fees throughout the region may reflect use of cheaper and perhaps less satisfactory materials and supplies, less training or experience of the physician performing the procedure if other than a board-certified plastic surgeon, less training of the individual providing the anesthesia if other than a board-certified anesthesiologist, or lack of accreditation of the surgery facility in which the procedure is being performed. In other words, Dr. Wells is a board-certified plastic surgeon and a board-certified otolaryngologist/head and neck surgeon who operates in her own accredited surgery center with a board-certified anesthesiologist providing the anesthesia. Make sure you are comparing apples to apples.
A detailed estimate of the fees, customized for your procedure, will be provided to you following your consultation with Dr. Wells.
Alyson Wells,
M.D., F.A.C.S.
Her rare combination of impeccable training, keen aesthetic sensibilities, technical skill and precision in plastic surgery sets this Baltimore surgeon apart from the rest.
If you desire a flatter, firmer midsection, request a consultation online or call (410) 628-8200 to schedule your appointment. Board-certified plastic surgeon Dr. Alyson Wells will use her expertise to create trimmer, more attractive contours of your hips, waist and abdomen.