After Weight Loss
Offered at our convenient location in Baltimore, Maryland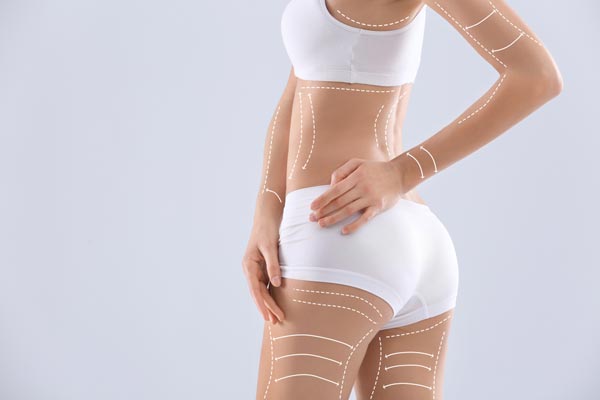 Post-bariatric body contouring procedures are surgical methods designed for patients who have recently undergone significant weight-loss. Floppy skin may drape from the upper arms, chest, stomach, upper thighs, and buttocks. These rolls of the skin can rub against each other, causing irritation and hygienic difficulties. They may also make exercising difficult. Post-bariatric body contouring helps improve the shape and tone of the patient's underlying tissue and removes excess sagging fat and skin. Post-bariatric body contouring aims to restore a sense of normalcy for the patient. By reshaping the body to the patient's ideal proportions, Patients can finally realize their weight loss surgery's success. Studies have indicated that post-bariatric body contouring has sustained quality-of-life improvements for patients.[1] Bariatric surgery does not increase risks for complications in future body contouring procedures.[2]
Listed as one of the area's top doctors by Baltimore Magazine, Dr. Alyson Wells brings exquisite insights, honed skills, and precision into every facet of her work, leaving patients feeling their absolute best. She is double-board certified and consistently demonstrates an enduring record of excellence.
It's important for patients to understand all aspects of their potential body contouring procedure. It's normal to feel some anxiety, whether it's excitement for your new body or a bit of preoperative stress. It is essential that candidates for these procedures understand them and have realistic expectations regarding their aesthetic outcomes. Results, however, can be dramatic and gratifying for both the patient and surgeon.
Keep reading to learn more about body lifts and to see whether you would be an ideal candidate for surgery.
Click here to schedule your consultation with Valley Plastic Surgery & Medi-Spa, or call us now at (410) 628-8200.
Be sure to also check us out on social media. Find us on our Instagram and Facebook.
We look forward to closing the final chapter on your weight-loss journey.
About
Weight loss after bariatric surgery reduces the medical risks of obesity, but psychosocial and functional problems often remain due to the surplus skin.[3] Bariatric surgery can have many undesirable effects, one of which is loose, drooping skin all throughout the body. Because obesity pushes the patient's skin to the limit, it loses its elasticity. The newly slimmed-down patient has to confront layers of excess skin, including an unsightly apron of skin hanging from the stomach that can cover the groin area.
Most Affected Areas of Bariatric Surgery
Upper arms

May appear loose and full, yet saggy.

Breasts

May flatten with the nipples hanging downward

Abdomen

May extend around the sides and lower back area

Buttocks
Groin
Thighs
Types of Body Contouring Procedures
There are many types of body contouring options available to provide you with the custom ideal treatment for your body. You and Dr. Wells can go over these during your initial consultation.
Liposuction
Liposuction is a fat reduction technique in which a hollowed-out needle called a cannula connected to a suction device is used to suck out the fat from stubborn, problematic fatty areas.
Body Lift
A body lift is a procedure that modifies a patient's midsection, hips, thighs, and buttocks for a more aesthetically pleasing appearance.
Arm Lift
An arm lift is a surgical procedure that removes the excess skin from the upper arms, restoring firmer, more slender arms and restoring your ability to wear blouses with sleeves comfortably.
Tummy Tuck
A tummy tuck is a process that removes stretch marks, excess skin, and fat from the lower abdomen and tightens the muscles of the abdomen like a corset.
Thigh Lift
A thigh lift is a surgical procedure that gently removes redundant, loose skin along the upper legs.
Autologous Butt Augmentation
Autologous butt augmentation is a process in which a patient's own fat is harvested, purified, then re-injected into the butt to give it more volume, shape, and contour.
Benefits of Post-Bariatric Body Contouring
Smoother, more proportioned contours
Increased self-confidence
Instantly noticeable results
Easier to clean
Decreased irritation
Finalizes the weight loss journey
Candidates
The ideal candidate for post-bariatric body contouring is any healthy adult at a stable weight who struggles with excess flabby skin resulting from previous weight-loss procedures. Candidates will usually have lost 100 lbs or more from their previous surgery.
Personal Consultation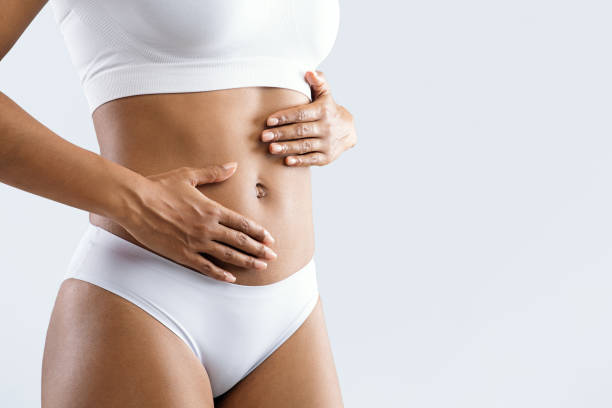 Arranging a consultation with Dr. Wells will allow you the opportunity to discuss your goals and expectations for your new body. Be sure your reasons for pursuing surgery are yours alone and not society's or a loved one's. Don't be afraid to ask questions. The success and safety of your procedure depend on your complete honesty during your consultation. You will be asked a number of questions about your health, desires, and lifestyle. From there, Dr. Wells will determine the best path forward for you and your body.
Preparation
Dr. Wells will give you a series of steps to follow before your procedure, such as:
Stop smoking
Avoid certain medications
Adjust your current medications
Avoid certain foods and liquids
Dr. Wells will also go over potential risks that could complicate your procedure like:
Blood pressure
Bleeding habits
Complications from any previous surgeries
Recovery
After your surgery, Dr. Wells will drain the treated areas, then dress and bandage them. Dr. Wells will give you post-operative instructions on how to care for your new body properly.
Results
Studies have shown that the results and outcomes of bariatric surgery can be improved with body contouring procedures, especially with regard to better patient self-image, self-confidence, and satisfaction.[4] Patients who underwent body contouring procedures after bariatric surgery had significantly better long-term weight loss than a matched cohort of patients.[5]
Complementary Procedures
Breast Lift
A breast lift is a surgical procedure that maintains the breasts' volume but achieves a more uplifted and firmer look with more roundness and fullness.
Mommy Makeover
A mommy makeover is a combination procedure of breast augmentation, liposuction, and tummy tuck designed to restore a woman's body back to its pre-pregnancy glory.
Facelift
A facelift is a surgical procedure that removes excess skin and tightens the face to produce a more vibrant, youthful look.
Botox
Botox is a revolutionary anti-aging neuromodulator that relaxes the facial muscles to smooth out lines for a younger-looking appearance.
Labiaplasty
A labiaplasty is a surgical technique that contours and reduces the lips of the vagina for a more streamlined appearance. This procedure is great for recent mothers looking to bundle this procedure up in a mommy makeover.
Cost
While some weight loss procedures may be covered by some insurance plans, post-weight loss body contouring procedures are usually not covered due to their cosmetic rather than health-related nature. However, there are easy and flexible financing options that can make your procedures more affordable.
If you've enjoyed learning about our post-bariatric body contouring procedures, we recommend checking out the Valley Blog. Find out why Baltimore Magazine listed Dr. Wells as one of the state's top plastic surgeons. You'll also find great content relating to breaking news in the industry and updates to our practice.
For any additional updates, don't forget to follow us on Instagram and Facebook.
We look forward to unveiling your new self to the world.
FAQ
What Is Post-Bariatric Body Contouring?
Post-bariatric body contouring are surgical methods for patients who have undergone massive weight-loss procedures that remove any leftover excess skin and fat to improve the overall shape of the patient's body.
How Come Exercising Doesn't Treat My Sagging Skin?
Exercise does not tighten the skin. It merely burns fat and tones the muscles.
Will I Have Disfiguring Scars?
Body contouring scars can be lengthy, but most can be concealed by clothing.
How Long Do Results Last?
Results of post-bariatric body contouring surgery are permanent unless you gain a lot of weight or become pregnant. Even if you do put on some pounds, your body will mostly maintain your newly sculpted contours.
References