Abdomen Liposuction
Offered at our convenient location in Baltimore, Maryland
Liposuction for the abdomen is the permanent way to reduce stubborn stores of fat in this conspicuous part of the body. This minimally invasive procedure can sculpt your silhouette and finally get you the smooth contours that you've been craving. Liposuction isn't a weight-loss procedure, but it is an effective way to remove specific areas of fat. Whether you just want a little help to achieve your aesthetic ideal, or you're looking to deal with the aftermath of a massive weight loss, liposuction in this area in the body can deliver a smoother, leaner appearance. 
Dr. Alyson Wells is a board-certified plastic surgeon that puts her expertise to work to help patients in the Baltimore area and beyond look and feel their very best. If you're considering liposuction, schedule a consultation at Valley Plastic Surgery and Medi-Spa. To speak with one of our caring staff members at our Cockeysville offices, call (410) 628-8200, or fill out a contact form online at your convenience. 
Before and After Photos
About Liposuction for the Abdomen
The American Society of Plastic Surgeons reports that over 200,000 liposuction procedures were performed in 2020. So, if you're considering finally doing something about that stubborn fat, you're not alone. Liposuction is popular because it is a highly customizable procedure that can directly target a patient's concerns.
The abdomen is a common trouble spot for people of all ages and genders. Unfortunately, it's just how we're designed. The fat around our midsection was how our cave-dwelling ancestors made it through the winter. Besides being a fuel source, it also insulates the core of our bodies and protects the many essential organs inside from injuries. (1)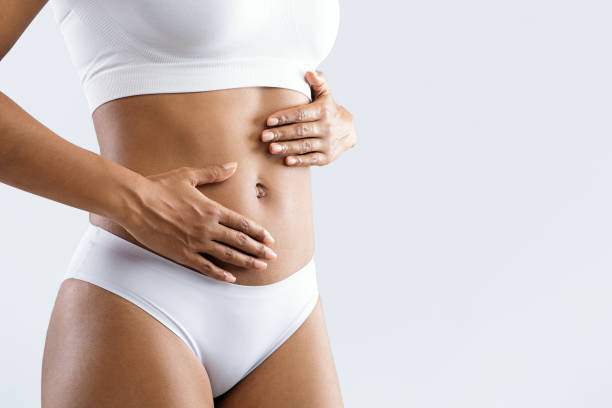 But, since we're eating blue crabs and not hunting mastodons, this fat is more of an annoyance than a necessity for survival.
Liposuction for the abdomen is a detailed procedure, and any surgical approach to this part of the body needs to be carefully considered. Dr. Wells' skill and precision make her an excellent choice for those considering liposuction. The abdomen is home to our vital organs, and its skin has a unique texture.
This part of the body also has multiple flexion points and undergoes multiple expansions and contractions over the course of a person's life. Pregnancy and weight fluctuations change the size and shape of this area. (2)
Fat is an important aspect of our anatomy, and there are several different types of fat that all play unique roles in the body. The fat that causes patients the most dismay, and that accumulates on the abdomen is subcutaneous fat. This is precisely what liposuction seeks to address.
Benefits
Liposuction has been performed widely since the 1970s, and its techniques have been constantly improving, making this popular procedure safer and more efficient than ever before. (3)
Benefits of liposuction for the abdomen include: 
Permanent elimination of fat cells
Ability to sculpt ideal contours
Allows musculature to become more visible
Clothing fits better and more comfortably
Long-lasting results
Improved self-image and confidence
Liposuction Candidates
Candidates for liposuction on the abdomen are frustrated with a "spare tire," "love handles," or the common deposit of fat that forms just under the navel. Liposuction is not a weight-loss procedure, so candidates should be near their ideal body weight, and looking to remove a specific area of body fat. As with other surgical procedures, ideal candidates for liposuction to the abdomen are in good health and have realistic expectations about what they can achieve with this procedure. The best way to determine whether you are a good candidate for liposuction is to schedule a personal consultation with Dr. Wells. To learn more about the other services that we offer at Valley Plastic Surgery, follow our blog, and check out our Instagram.
Personal Consultation
Liposuction for the abdomen may seem like a straightforward procedure, but like every service that Dr. Wells offers her patients, it will be customized to your unique anatomy. During your personal consultation, you will have the opportunity to discuss your specific goals with Dr. Wells. After she's examined your abdomen, she'll be able to determine the best course of action and design a treatment plan. To ensure that you are a good candidate for liposuction and that this procedure can be performed safely, Dr. Wells will need to review your medical history, medications you're taking, and any other procedures that you have undergone previously. Together, you'll review the details of your procedure and the necessary steps to achieve natural-looking, smooth results. 
Preparation
When you schedule your liposuction procedure, Dr. Wells and her staff will make sure that you have detailed instructions so that you can feel comfortable and confident about your decision, and know exactly what to expect before and after your abdominal liposuction.
Before your liposuction procedure:
Designate a comfortable and accessible place in your home to recover
Pick up medications
Arrange a family member or friend to drive you to and from your surgery, and stay with you for the first 24 hours after your recovery
Have groceries and entertainment on hand
Prepare to take several days off of work
Have loose, comfortable clothing to wear
Drink plenty of water and be well-rested
Taking good care of yourself leading up to your procedure will ensure that your body will be able to make a fast, easy recovery.
Procedure
Before the procedure begins, Dr. Wells will be able to answer any last-minute questions and will make markings on your abdomen to guide her as she performs the liposuction. You'll receive the proper anesthesia to ensure that you are resting comfortably and will not experience any pain during the procedure. Next, Dr. Wells will make small incisions in your abdomen, and inject the area with tumescent fluid. This special solution numbs the area, prevents excessive bleeding, and makes the fat easier to remove. Once it has taken effect, Dr. Wells will slide the long thin cannula, or wand of the liposuction equipment into the incisions, and use steady passes to dislodge and aspirate fat from your abdomen. Once she has achieved the flat contours that you desire, she may place drains in the incision. This allows any excess fluid to leave your abdomen. You'll be instructed as to how to care for these prior to your procedure. Your incisions will be dressed, and you'll be placed in a compression garment to ease the swelling and support your new, flatter figure.
Recovery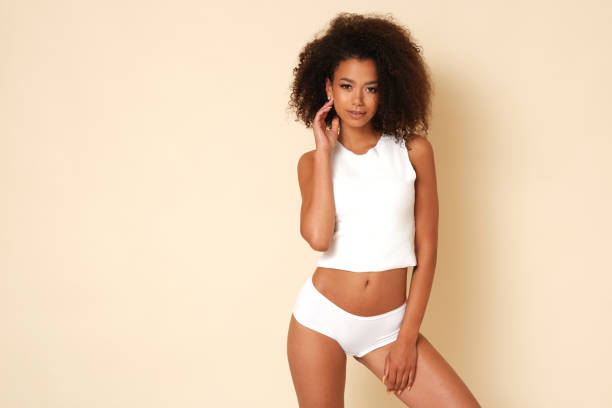 You'll be given pain medication to manage any discomfort after your liposuction. However, the lingering effects of the tumescent fluid should ensure that you remain numb for the rest of the day. Bruising and soreness are to be expected in the days following. You'll return to Dr. Wells offices throughout your recovery so that she can monitor your progress, and address any concerns that you may have. Although you may find movement difficult immediately after your procedure, you'll slowly find it easier to return to daily activities, and should be able to return to work in about a week.
Results
You may notice a difference in the shape and size of your abdomen immediately after your liposuction surgery, but the final results will not be visible for a few months. Swelling will improve gradually, and your new, sleek contours will slowly emerge. After six weeks, you'll see a significant difference, and by the three-month mark, you'll be ready to start celebrating your results. (4) Remember, once fat cells are removed, they are gone forever. However, maintain a healthy lifestyle to ensure that your results can be enjoyed for years to come. 
How Much Does Abdominal Liposuction Cost in Baltimore?
Every patient is unique, and your liposuction procedure will be designed to address your concerns and individual anatomy. The price of liposuction varies from patient to patient. Dr. Wells will be able to give you an accurate estimate for your procedure after meeting with you during your personal consultation. To schedule an appointment and learn more about liposuction, call (410) 628-8200. Our friendly staff and Dr. Wells are looking forward to meeting you. 
FAQ
How long does abdominal liposuction last?
Once fat cells are removed from the body, they are unable to return. Patients can enjoy a lasting improvement in the appearance of their abdomen. However, the remaining fat cells can increase in size if the patient does not maintain a healthy lifestyle and consistent weight. 
References